Engage your consumers by understanding them and by using digital methods.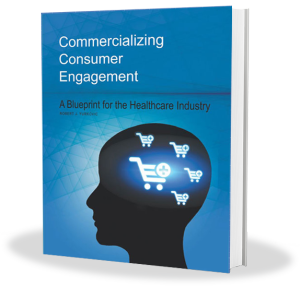 I wrote the book to help businesses engage consumers. B2C companies need to provide consumers with relevant interactions to help them make good decisions, but they can only do this if they understand them.
While this book is focused on health care, it applies to any industry where consumer engagement is imperative.
Companies must understand that consumers make decisions based on emotion and the subconscious parts of their minds. That is why I created the Mind Molecule and how they make decisions. After having a true understanding of the consumer, you can build powerful experiences and engagement programs. I added a segment on digital methods showing personalization at scale.
The book is in 3 basic parts
Understand healthcare and embrace the consumer.
Build your strategy and tactical programs using the right building blocks and best practices.
Understand the elements of digital and what role it plays. Implement what you have learned to build your engagement programs.
---
View chapter 1 for free
This chapter explains healthcare and the importance of customer-centricity with a focus on chronic diseases.
Tthe first edition is on Amazon, the updated second edition is only on my publisher's site, lulu.com.
Printed in a 6″x9″ paperback format
310 pages with 75 images
Get started. Use my 12-point guide to customer-centricity to engage your consumers. How many of these are you doing?
Realize that consumers are in control.
Create a company culture and values that focus on the consumer.
Understand the consumer and what motivates them.
Build relationships and trust for stickiness/loyalty.
Provide coordinated services across the business.
Generate consistent experiences across preferred delivery channels.
Offer usable tools and content/information to consumers.
Deliver relevant communications and interactions.
Partners should not collide with other health services and their offerings.
Health is personal, trust is earned and required for engagement.
Support comes from a local community.
To be truly engaged with a consumer's health, you must interact with them in such a way that it affects and supports their lifestyle.